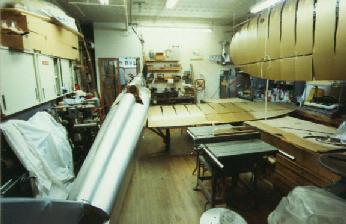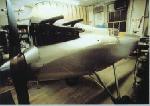 "CLICK" over thumbnails for larger views













This photo was taken in the Fall of 1994.when most of the major components were completed. The right wing was assembled to check spar alighnment with fuselage formers. The left wing is hanging from the sprinkler pipes on the right, which is where I stored them. Out of the picture on the right wall are the tail feathers hanging on hooks.

Airplane assembled diagonally in front of loft.

Early fuselage construction showing diagonal laminations of front forward area

The engine hoist was attached to the upper floor joist. The engine had to be lowered many times to aquire the correct fit.

A home made rig was developed to steam the longerons. This worked off boiling water on the kitchen stove.

Once the engine was returned from overhaul we decided to start it using a disc attached to the hub instead of the propeller. The test went well but it made a lot of noise